Frequently Asked Questions
How to install a top mount sink?
---
Click to view our Sink Guide Sheet PDF. Click on the video below to view an inset installation guide from our European supplier.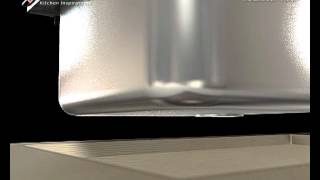 ---
How can I look after my chopping board and prevent warping or drying out?
---
To obtain maximum service and appearance, the following points should be observed:
DO NOT expose this cutting board to excessive heat from cooking appliances, steam or leave exposed to direct sunlight for long periods.
DO NOT immerse in water or place in a dishwasher.
DO apply a generous coating of vegetable oil before use and every few months or whenever the board begins to feel dry to renew the natural oils and reduce the risk of splitting and loss of shape.
DO clean regularly with a damp sponge or cloth.
If warping should occur it can usually be rectified by thoroughly moistening the convex side of the board and then exposing that side to the heat of the sun until the board flattens out.
---
Do Quartz sinks scratch and what is the product maintenance for them?
---
Granite Quartz is a manmade material and requires more maintenance than Stainless Steel.
The Pyragranite sinks are a matt carbon finish, so scratches and marks will show easier compared to a glossy finish. Granite/Quartz sinks are scratch resistant in the terms of if you pushed a bowl across a stainless steel sink it would mark straight away, whereas with a granite/quartz sink it may mark and in most situations from light use, you could wipe the mark away with a microfibre cloth and oil. The differences are with stainless steel sinks, once the sink is a year old, all the scratches should form its own finish and patina, whereas with granite/quartz sinks, any marks from pushing or dragging items during washing will leave a chalk like mark, that should be less visible after oiling and cleaning. So overall your stainless steel sink will have hundreds of thousands of scratches, whereas your granite/quartz sink will have maybe a hundred visible scratches that can be easier to hide, but it requires more maintenance to hide them compared to stainless steel where you can't hide the scratches and will have to get the sink re-polished or wait till the sink forms its own patina.
To view our scratch test and get a bit more information, click to view our Scratch & Product Maintenance PDF.
---
Do Nano Stainless Sinks Scratch?
---
With Nano Stainless sinks the colour is fused into the top surface section of Stainless Steel becoming part of the stainless steel, not a coating. While very hardy and durable, it is normal for stainless steel to be scratched from every day crockery and utensil use. Scratches, scuffs and marks will show in silver grey colour of stainless. Harder objects with a rough hard bottom base, such as porcelain and crockery are more likely to mark the surfaces. Roll mats or dish mats used in the bottom of the bowl and drainer may help reduce the amount of scratching from daily use.
---
My old sink didn't scratch as much as my new one. Why is that?
---
It may seem like your new sink scratches more than your old sink that was in your house for years. Though in reality, the reason your old sink didn't seem to scratch as much is because the original finish the sink came in was scratched by every day use and the scratches became uniform to create a duller scratched finish overall. Please find eight photos below. Four of an old sink that the scratches have covered the whole sink and made a dull scratched finish and four photos of a new sink with the polished finish that hasn't been scratched or affected yet. Over time as the new polished sink gets used every day, it will eventually look like the old sink. Sometimes it helps if you still have the old stainless steel sink or a stainless steel laundry sink to compare the finishes. Scratching is not something that can be avoided unfortunately, but most people don't notice the scratches as the years go by and the scratches create their own finish. There are a couple of things you can do to help the process though; 1 - By using a drainer roll mat in your bowl or drainer it can help avoid getting as many scratches because the cutlery, sharp objects, plastic products and porcelain products will be sitting on the roll mat instead of the sink. We have these available on our accessory page or on the individual sink pages. 2 - By choosing a brushed finish sink that has already been professionally brushed so the scratches aren't as visible compared to silk finish , unless they go against the grain of the brushed finish lines. 3 - By using a professional product to brush the sink surface in a grain pattern that brushes the sink to give an overall finish that scratches will blend in with. If you need any further information, please contact us. ​ Click on the photos below to see the differences between the older sink and the new sink. There is quite a noticeable difference in the finish when you compare them side by side.
---
Can Valoré sinks be used outdoors?
---
Stainless Steel - The best stainless steel to use outdoors is 316 grade, as it contains Molybdenum which helps resist corrosion to chlorides like salt water. 304 grade is the most common Stainless Steel and it is made for domestic food preparation and doesn't contain Molybdenum. If a 304 grade Stainless Steel sink is in an area completely covered from the weather and elements, it may last and not be as affected from the weather or as likely to rust or pit from chlorine or mineral deposits in water. Stainless steel would be the best choice for temperature changes as Stainless Steel isn't as likely to crack like granite quartz or ceramic materials. Granite/Quartz - The granite/quartz material wouldn't have an issue with rusting like stainless steel, but it may be more likely to crack or dry out from the hot and cold weather (contracting and expanding) or colour fade with sun exposure. If the granite/quartz sink is in a completely covered area that isn't exposed to the sun or weather, it may be able to last and still maintain the original sink lustre. Remember to oil the sink regularly to avoid the sink from drying out or fading. Ceramic - We wouldn't recommend using a ceramic sink outdoors as it would be more likely to crack from extreme weather changes.
---
Can I install a sink by myself instead of hiring a professional joiner, kitchen company or cabinet maker?
---
Valoré recommend hiring a professional kitchen installer and not attempting to install a sink by yourself. A professional joiner, kitchen company, bench top company or cabinet maker will be used to installing sinks frequently and they will know how to deal with any problems or issues that may occur during installation.

The professional will have the suitable tools and protective wear e.g. silicone or sealant, gloves, tools, etc. They will make sure there is enough room at the back and front of the bench top, they will check the sink is in the correct position, they will make sure the bowls fit in the cabinets, they will make sure the cut out is correct before cutting and that the sink is level. The professional kitchen installer will also correctly seal the sink to the bench top and use the correct products to make sure it is sealed, but that the sealant can also be cut if needed.
If you attempt to install a sink yourself, you may risk not sealing the sink correctly which can result in water leaking into your cabinet underneath. You may also risk dents or indent marks from hitting the sink during installation or from tightening the clips down too hard. You may also risk hurting yourself by not using the correct protective wear. If the sink is installed incorrectly or there is a issue caused from incorrect installation or during installation, it may not be covered by the warranty.
---
What products can I use to clean the Quartz sinks?
---
Use the cleaning products as per their instructions on the back of the cleaning product.
General Cleaning:
Palmolive dishwashing liquid and a sponge
Ajax Spray & Wipe Stone Safe and a microfibre cloth
Light Scuffs & Marks:
Magic Eraser with water (Copper Pots & Forged Aluminium Pans)
Canola oil and a microfibre cloth
Tougher Scuffs & Marks:
Jif Cream with a sponge and Canola oil after (Jif Cream may dull the sink finish, but the oiling after should bring the finish back to new. If you are worried about the finish being dull from using Jif Cream, you can also oil the sink a couple of hours to a day before applying Jif Cream and this should help in protecting the surface of the sink.)
Gouges that have penetrated the surface:
Unfortunately, nothing can be done once the surface has been penetrated. We have a Pyragranite colour cream that you can request, but it will only colour the surface and not fill the gouge.
---
Can I cut out my benchtop using the measurements on the dimensions given or dimensions drawings?
---
We recommend having the sink before cutting the benchtop, as measurements may change slightly from the dimension measurements given or displayed in the dimensions drawings, especially for handmade sinks or fireclay sinks. As our products are always changing to suit the market, there may be some differences in measurements, or the product may be discontinued if it's not suited for the market. Once you cut a hole, you can't go back, so it's best to make sure everything is correct before you cut.
---
Can I leave pots and pans sitting on the drainer or in a Stainless Steel sink?
---
We don't recommend leaving pots, pans and other metal items sitting in the sink bowl or on the drainer for a long period of time, e.g. longer than 4 hours. As some metals in the pots and pans can have a corrosion reaction to stainless steel when liquids (water, detergent, etc) are involved, e.g. galvanic corrosion.
We recently performed a test where we left a pan that had an aluminium body and stainless steel induction base in a stainless steel sink bowl with a little bit of water and detergent and left the pan in the sink overnight. The next day, we took the pan off and found the pan had left some corrosion marks on the sink bowl. This may sound quite shocking, because people are used to stainless steel being resilient and reliable, but this is a reaction called 'Galvanic Corrosion'. Stainless steel was manufactured to be highly resistant to rusting and wasn't designed to be compatible with other metals.
As new technology and products are evolving and being released every day, it is getting harder to test what works with what and what causes a reaction to what and how to guide customers on how they can maintain a sink without issues. We send out a sink guide sheet with each sink, but we also understand everyone is time poor. If you would like a copy of the sink guide sheet, please click here for a PDF copy. If you would like a care and cleaning guide, please click here.
Please note this was in-house testing, and wasn't a standard test, so there may be some terms or time frames that we don't have compeletly correct, as we are not qualified in that field.
---
---